Who can donate
Vipassana Research Institute (VRI), a non-profit-making body was established in 1985 with the principal aim of conducting scientific research into the sources and applications of the Vipassana Meditation Technique. It is also the custodian of all the teachings given by the Principal Teacher of Vipassana, Mr. S. N. Goenka, who has been instrumental in the spread of Vipassana in modern times. The financing for running VRI comes mainly from donations. 
Donations are accepted from Vipassana meditators as well as non-meditators. 
Donations to VRI are eligible for 100% tax deduction benefits to Indian citizens under Section 35 (1)(iii) of the Indian Income Tax Act, 1961.
How to donate to Vipassana Research Institute
1.Donate online
Please visit https://www.vridhamma.org/donate-online to make a donation online using Net banking or your credit/debit card
2.Donation via QR code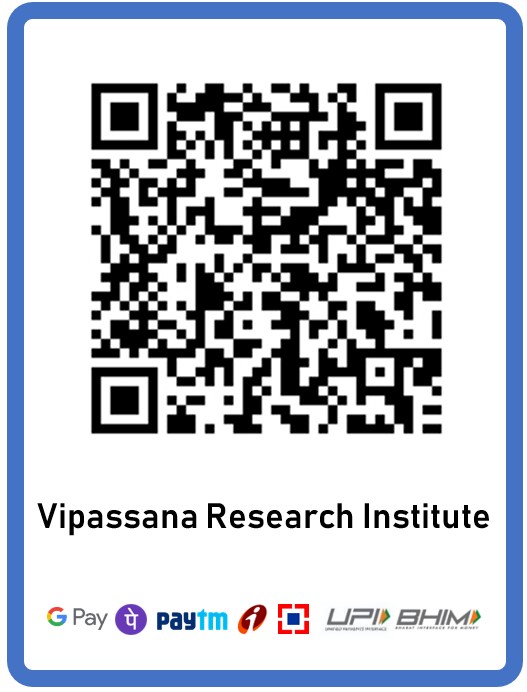 3.Donation through Cheque/Draft
Donation Cheque/Draft favoring "Vipassana Research Institute" payable at Mumbai can be sent to the following address:
Vipassana Research Institute
Green House, 2nd Floor,
Green Street, Fort,
Mumbai - 400 023
India
Tel: +91 22 50427500
Ext.: 510/ 512
 
4. Donations through Core Banking (within India)
Donations to "Vipassana Research Institute" can now be remitted from anywhere in India through any branch of any Bank in India under the core banking system.
Vipassana Research Institute
Axis Bank Ltd
Malad (W) Branch,
Mumbai - 400 064
Account No. 911010004132846
MICR No. 400211011
IFSC Code: UTIB0000062
 
5. Donations from Outside India can be remitted through SWIFT transfer to State Bank Of India
SWIFT Transfer details are as follows:
State Bank Of India
FCRA Cell, 4th Floor, State Bank of India, New Sansad Marg, New Delhi - 110001
Account No. 4010 5671 790
IFSC Code. SBIN 0000 691
Swift Code: SBI NIN BB 104
Copy of communication pertaining to donation may please be enclosed to donation@vridhamma.org
For donations made through options 3 & 4, please inform
Derick Pegado
c/o Global Vipassana Pagoda
Gorai Village, Boriwali (W)
Mumbai - 400 091
Tel: +91 22 50427500
Ext.: 510/ 512
Email: accounts@globalpagoda.org
Please inform all relevant details such as Name, Address & No of Vipassana Courses done, so that the receipt of your donation can be sent to you.
Please read terms of use for more details.